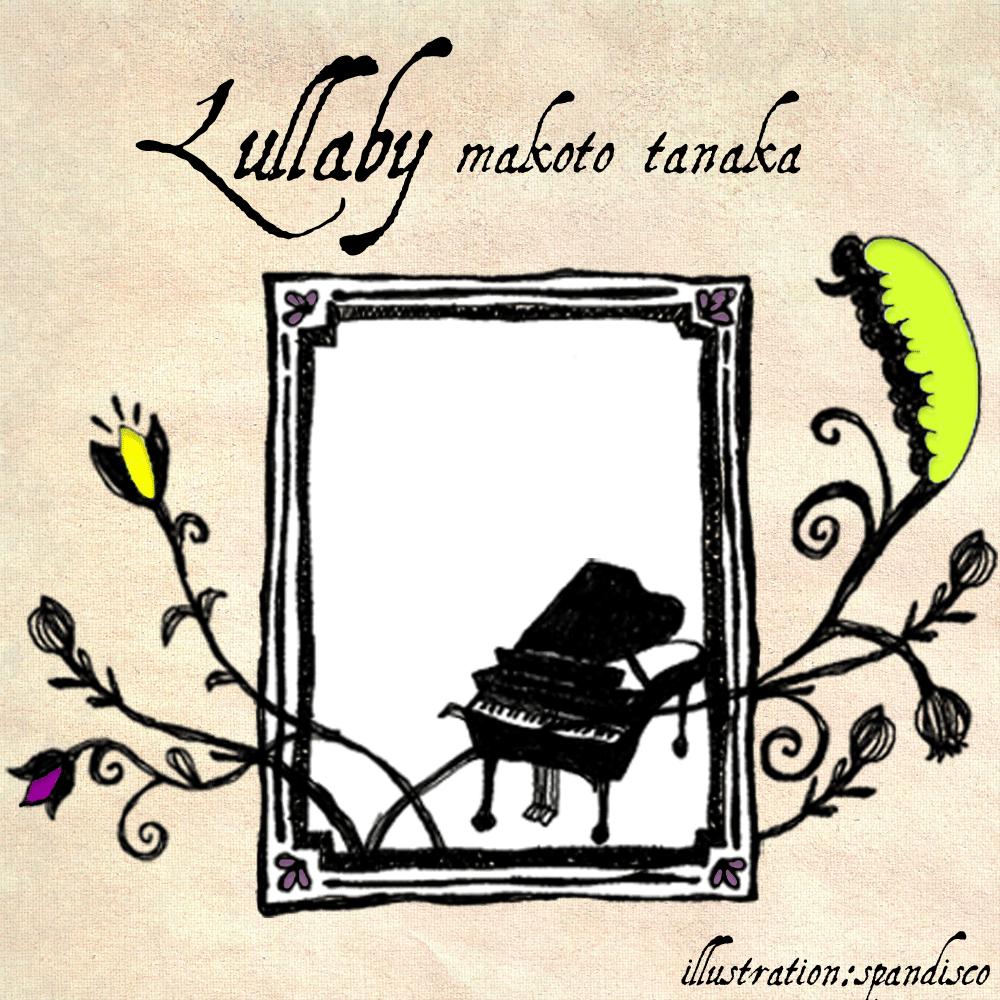 cover artwork by
spandisco
tanaka makoto - Lullaby
track list
01 LullabyⅠ

02 LullabyⅡ
03 LullabyⅢ
04 LullabyⅣ
Composers of movie and TV program, etc.

The performance activity in performance art "Lumiere" that unites by the side
of the composition activity and "Piano music, light, and modern ballet" is done.

--------------------------------------------
映画・舞台・映像・TV番組など、劇伴音楽の作曲家。
作曲活動の傍ら、「ピアノ音楽・光・モダンバレエ」をコラボレートさせた
パフォーマンス・アート"Lumiere(リュミエール)"での公演活動も行う。
・自身の楽曲「凛-RIN-」がアジア最大級の国際短編映画祭 "SSFF&ASIA 2011" のMusic Shortクリエイティブ部門にて入選。
本楽曲を起用した映像作品「凛」が東京・横浜の全3会場で上映される。
http://www.vibirth.com/news/news0133.html
・富士山河口湖映画祭上映作品映画「いつか見る富士山」
・米 テキサスファンタスティック映画祭 招待作品 映画「体温」
・短編アニメーション映画「ポンタと遠足」
・tvk/テレビ神奈川「公園バレエ」
http://www.tvk-yokohama.com/ballet/
biography
1983.6.5
born in aichi,japan
1990
start playing the piano
2003
make a decision to compose film music,
when he listen to the soundtrack of a movie call Schindler's List.
2009
song "Time of Life"have won the prize in
composition contest held under the auspices of Creofuga corporation
2010
recorded on compilation album 「Next Generation Creators」
form japanese music label MA ENTERPRISE JAPAN
The composition of the music of the television program is started.
The music of Texas fantastic film festival invitation work movie "Temperature" was composed.
2011
The music of movie "Mt. Fuji seen some time" screened by the Mt. Fuji Kawaguchiko film festival was composed.
The music of television program
"Ballet In The Park"
of Kanagawa Prefecture was composed.
"Lin-RIN-"
that I had composed bore away a prize in the Music Short section of an international short film festival
"Short Shorts Film Festival & Asia 2011" of an Asian maximum level.